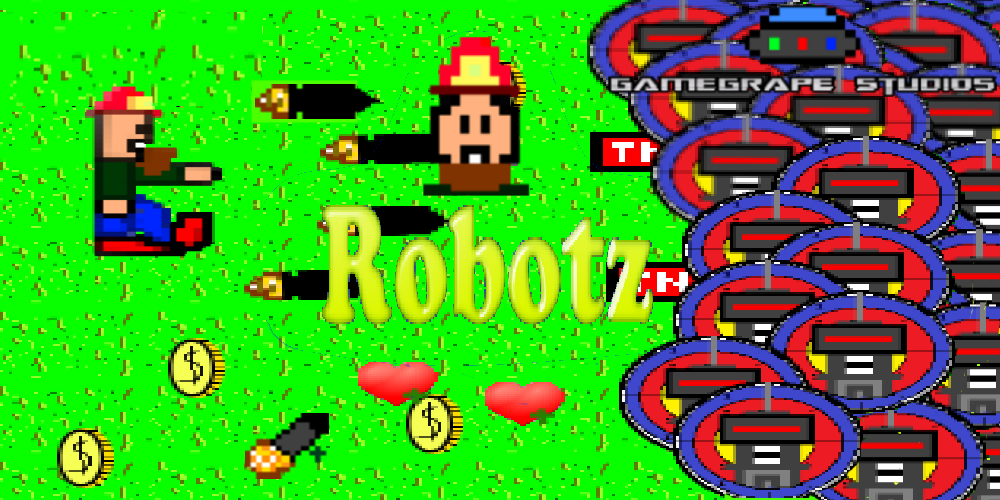 Robotz
---
Hello and welcome to Robotz! A fast paced top down shooter brought to you by GameGrape Studios! Note: The game is not finished yet and is still in development. You can get your self a copy of the game and automatically receive updates when they become available. Get Robotz Here!: http://gamegrape-studios.itch.io/robotz

Robotz Story:
Robotics Industries was working late at night on their newest line of demolition robots when suddenly a power surge hit the factory. All the machines went out of control and failed. During the chaos someone sneaked into the factory. They destroyed everything on the computer, and left a virus on the system. Once the damage was done they snuck out undetected. Once everything was under control the machines were restarted. Then it happened: The eyes of the Robots flashed with red. The Robots began is act differently. They were more powerful, faster and stronger. They began to multiply and fill the room. They now had full control of the area and quickly rushed the door. After their successful escape they had one mission: destroy everything at all cost. Stopping these robots is no small task. You have been called for the mission. It is up to you to do whatever it takes to take the Robotz down, restore peace to the city, and catch whoever is responsible!
This Game Features:
-Endless, addicting gameplay!
-Action!
-Explosions and weapon battles!
So what are you waiting for? Get Robotz today!

Be sure to keep updated with us, we are also working on our game High Flyer!
http://gamegrape-studios.itch.io/high-flyer.

Thanks, See you around!
GameGrape Studios - www.gamegrapestudios.com
GameGrape Gaming - www.gamegrapegaming.wordpress.com
Patreon: https://www.patreon.com/posts/2315305
Purchase
In order to download this game you must purchase it at or above the minimum price of $0.99 USD. You will get access to the following files: